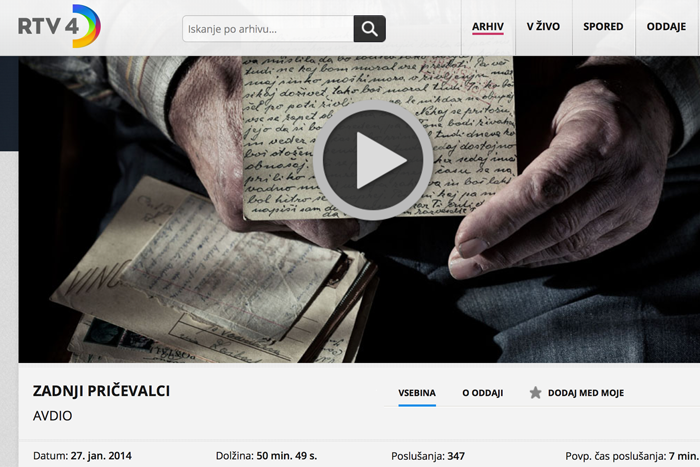 Post-war politics and the Cold War meant that the planners of Fascist camps were not punished according to the procedures followed at the Nuremberg Trials.
In the decades that followed, a distorted image of fascism has emerged. Historical memory of the interment has been pushed into the background. The narratives of the few living Slovenian survivors of Fascist internment and their relatives represent a vivid memory of the period. The award-winning radio documentary Zadnji pričevalci (Last Witnesses) by journalist and researcher Saša Petejan is not intended to serve as an illustration of evil nor to compile and compare statistics, but to explore a body of memory that has long been avoided as taboo, one that stands on the verge of being forgotten entirely.
Listen to the radio documentary in Slovenian or click the above image.
Title: Zadnji pričevalci / Last Witnesses
Writen, edited and directed by: Saša Petejan
Research: Saša Petejan and dr. Urška Strle
Production: Radio Koper Capodistria (Managing editor Andrej Šavko) and Radio Slovenia
Advising: Neva Zajc
Music selection and editing: Armando Šturman
Audio editing: Lean Klemenc and Tadej Tadič
Narrators: Janko Petrovec, Branko Laginja and Bogdan Kavrečič