Guardians of the Spoon is a collaborative project between photographer Manca Juvan, journalist Saša Petejan and historian Urška Strle, which consists of a book, exhibition, website, radio and film documentaries.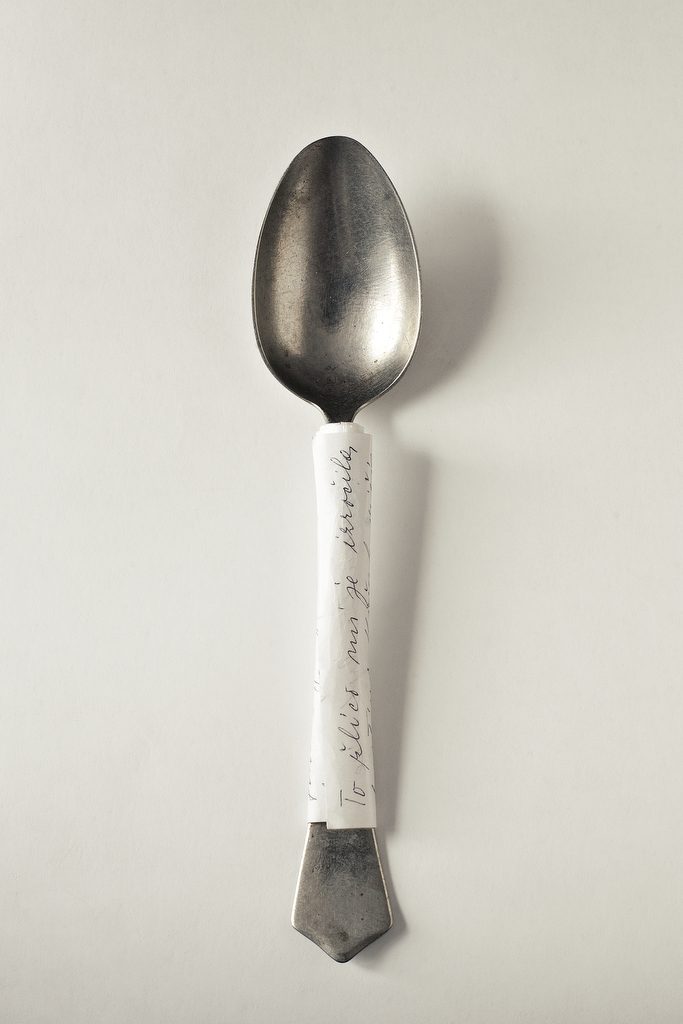 In June 2010, Janez Maršič, a Slovene from Kočevje, decided to explore the history of his father's wartime internment in situ. He set out for the Italian town of Renicci, the site of a concentration camp during the Second World War. Janez recalls the landlady of a pension where he stayed in Renicci, and with whom he spoke about his plans. He also gave her a book about the Renicci camp, written by a local Italian historian, Daniele Finzi.
Her reaction the next morning surprised and affected me. She came to serve us breakfast, as she normally would. On her own initiative she started talking about the camp, during which she started to weep, openly and sincerely. She cried in apology, as I understood, on behalf of her nation, for all that had happened.
Janez's narrative relates to a historic period during World War II, when the Kingdom of Italy occupied parts of the Kingdom of Yugoslavia (1941–1943). He is one of the relatively few whose testimony reflects on the largely forgotten human rights violations suffered more than 70 years ago. Acknowledgement of Italian war crimes in the larger international context today, is as uncommon as it is inconsistent. Indeed, a survey of various references and encyclopaedias rarely turns up any mention whatsoever of the many Italian concentration camps that served as instruments of political and racial persecution. While the most notorious Nazi camps have become widely embedded inpopular culture and our collective imagination, history has little if anything to say about the Italian Fascist camps.
Mussolini's Italy created a network of hundreds of places of internment, not only within the borders of Italy as we know it, but also on the territories of today's Slovenia, Croatia, Bosnia, Montenegro, Kosovo, Serbia, Macedonia, Albania, Greece, Libya, Somalia, Eritrea and Ethiopia, all controlled by Fascist Italy. The exact number of the camps remains largely unknown and uninvestigated. Similarly, the number of victims also remains unknown.
Carlo S. Capogreco, one of the leading Italian researchers of Italian Fascist internment history, rejects the myth that civilian concentration camps were particular to the Nazi system alone. Moreover, he stresses that the Jews did not occupy the bottom rung of the Fascist internee ladder – that place was held by the Slovene and Croat people. As a result of the Fascist annexation Slovenes and Croats were formally considered Italians, but in reality they were Italians in the "nobody" category. Even if the internees were not forced to work, they were exposed to the most extreme forms of neglect, which resulted in widespread suffering and death. Yet the war crimes perpetrated by the Italian Fascist authorities upon the "Slavs" were never the subject of any trials even remotely comparable to those of the Nuremberg trials.
In the late 1940s, a Yugoslav report documenting more than 800 Italian Fascist war crimes was sent to the United Nations War Crimes Commission, but was never properly processed. The report clearly documents widespread wartime violence against civilians, crimes that included the shooting of hostages, the destroying and burning of villages, and instances of mass internment. Such a hostile military response to the growing Partisan-led resistance movement in the annexed territories, was pushed to the fringes of history by the West's larger struggle with Communism in the Cold War which was to follow.
As a result, names and places like Rab, Gonars, Visco, Monigo, Chiesanuova, Renicci, Colfiorito, Fraschette di Alatri, Cairo Montenotte and others, where more than 50,000 Slovenes, Croats, Montenegrins and other South Slavs were interned, mean nothing to many, particularly the younger generations. Similarly, many international scholars in the humanities know nothing about them. Furthermore, some Italian historians dealing with the Italian Fascist camps were obstructed in their efforts and defamed.
Today, Italian society remains largely ignorant of these aspects of the war and their wider implications. All of the historical accounts that do exist, point to these camps as sites of dehumanization, suffering and death, yet these localities rarely acknowledge in any public way the tragic events of the past. Memorials and sites of remembrance are wholly a matter of locally driven engagement rather than any larger national awareness.
* * *
However, it's time this was acknowledged – and addressed.
By shedding light on some fragments of the destinies of Slovene victims of Italian Fascist camps, we have created a social context for the long missing remembrance of the Fascist internment mechanism that constitutes an important chapter in WWII. It is an attempt to give voice to the politically induced loss of historic memory. We decided to capture and share the very tangible vulnerability of survivors and their relatives through a series of photographs from the present day, and to give them a means of expression with which to articulate their very personal experiences of internment.
The majority of testimonies, preserved documents and objects are published here for the first time. The witnesses were not easy to find: many survivors were too weak to offer any lucid accounts, while some simply refused to come forward or participate. Due to the amount of time that had passed, we did not even hold out much hope of finding a large number of survivors. However, the gratitude the witnesses and their descendants demonstrated toward us speaks volumes about the historical wrong that continues to perpetuate the marginalisation of their experience.
Part of the importance of the storytelling herein lies in the notion of widespread historic amnesia. Moreover, we believe that these close-ups constitute a glimpse into the very real lives and fates of these people, and serve to reveal the structures of the internment experience, which have and continue to be, so widely overlooked from a macro-historical perspective. But above all, this book is an act of remembrance, and a way to pay respect to the past victims and survivors of Italian Fascist camps and their relatives.
Manca Juvan, Saša Petejan, and Urška Strle
**
With special thanks to all who contributed in different ways to this project; first to the survivors and their relatives for sharing their stories, then to Slavoj Žižek who kindly wrote the foreword for the book, and to project's partners, who have helped evolve it across different platforms; Oto Luthar on behalf of Research Center of the Slovenian Academy Of Sciences and Arts, Kaja Širok on behalf of National Museum of Contemporary History of Slovenia, Blanka Jamnišek on behalf of Slovene Ministry of Foreign Affairs, Institute Apis, RTV Slovenia, Dušan Moravec, Prapesa (Sara Badovinac and Peter Zabret), Dejan Paradiž, Jeff Bickert, Katja Gorup, are only some names.
Thank you to all who have helped and are helping in breaking this historic amnesia, not with a purpose of division, but a notion of reconcilliation and healing.
Order your book copy or use PayPal (54 EUR, shipping and tax included):

©2016, All rights reserved. No part of this web and its content may be reproduced, stored in a retrieval system
or transmitted, in any form or by any means without the prior permission of the copyright holders.